Valentine's Day 2023: Where to Go on Valentine's Day in Europe ?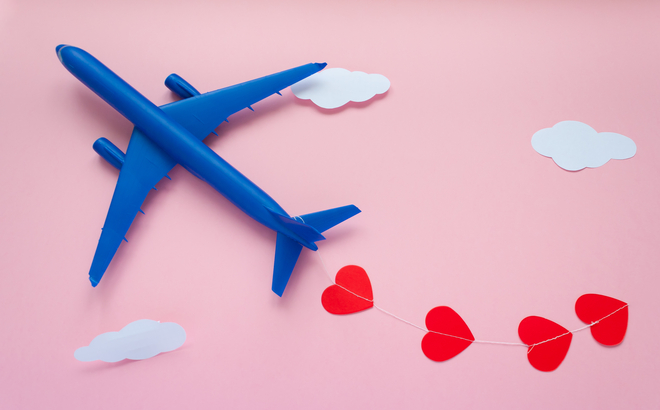 What if instead of chocolate, flowers and the movies this year, you spent Valentine's Day 2023 on a romantic getaway with your other half? And what better place to celebrate love than in a thousand-year-old European city? Here we reveal our selection of the most romantic cities in Europe for celebrating Valentine's Day and tips and tricks for easy travel. 
 

Why Do We Celebrate Valentine's Day on February 14?
Every year, the festival of lovers is celebrated around the world on February 14, Valentine's Day. But where does this tradition come from? Why February 14 and why "Valentine's Day"? 
Answer: one of the legends related to this lovers' holiday tells the story of a certain Valentin de Terni, who was a priest in Rome during the 3rd century. It is said that he secretly performed many Christian weddings, which were prohibited by the Emperor, and that he was imprisoned and executed on February 14, 269. Considered a martyr, he was then declared the patron saint of lovers by the Catholic Church and his feast day is celebrated on February 14. It is also said that this festival of lovers was promoted by the pope in order to counter the pagan festival of Lupercalia, once celebrated from February 13 to 15. 
 

Where to Go on Valentine's Day 2023 with Your Lover?
The old continent is full of picturesque, romantic destinations. It's hard to choose! If you haven't yet decided where to celebrate your Valentine's Day 2023 event, here is our selection of European cities for a successful romantic getaway:
 Valentine's Day Weekend in Paris (France)
Known worldwide as the City of Love, Paris is the number one romantic destination in Europe. Siting on a terrace in Montmartre, strolling along the Champs-Élysées, cruising the Seine at nightfall... Love is around every corner.
 Valentine's Day Weekend in Venice (Italy)
Venice, with its canals, countless bridges, gondolas, unique architecture and timeless views, attracts lovers from all over the world every year. The city plunges you into its magical atmosphere with incomparable culture and cuisine. 
 Valentine's Day Weekend in Bruges (Belgium)
Also known as the Venice of the North, the capital of Flanders stands out for its picturesque scenery with canals, beautiful bridges, cobblestone streets and medieval historical monuments. An idyllic setting for a romantic Valentine's Day trip. 
 Valentine's Day Weekend in Seville (Spain)
The capital of Andalusia does not disappoint. Rich with glorious history, the streets of the city are lined with majestic monuments and come alive with the traditions of the South. Irresistible joy and beauty for travelers from all over the world looking for warm weather in February!
 Valentine's Day Weekend in Prague (Czech Republic)
The Golden City, the City of 100 Towers, the City of 100 Spires... There is no shortage of flattering nicknames for the vibrant Czech capital. They all praise its rich architecture and romantic atmosphere. Wherever your Valentine's Day getaway takes you, you're sure to fall in love with this city. 
Valentine's Day 2023: Requirements for a Weekend in Europe
 
 Are you a citizen of the European Union or Schengen Area (or Associated States)?
You can celebrate Valentine's Day 2023 in one of our selected countries with a national identity card or a passport valid for the duration of your stay.
 Are you a citizen of a country outside the EU and Schengen Area?
Depending on your country of origin, you may need a visa to enter the Schengen Area and celebrate Valentine's Day. Start by checking which countries need a Schengen visa.
Do you need a Schengen visa? Go to the consulate's website for the country in the Schengen Area where you wish to travel to obtain the necessary information and start your Schengen visa application. Please note: if you wish to visit several countries during your romantic European getaway, you must specify this in your Schengen visa application. Once you have obtained your visa, be sure to keep your supporting documents with you, including your proof of Schengen travel insurance covering medical and hospital expenses for a minimum of €30,000.
You don't need a visa? You can travel to the Schengen Area with a passport that is less than 10 years old and valid for at least 3 months beyond your planned departure date. The border police may also ask you for other documents. Finally, although it is not mandatory, we strongly recommend travel insurance to cover health expenses during your trip to the Schengen Area. Please note that as of November 2023, you will also need to apply for an ETIAS travel authorization. 
 Schengen Visa Insurance
Choose peace of mind for your visa application and when crossing the border with Schengen travel insurance policies from Europ Assistance. Apply online and get your proof of insurance immediately. Recognised and accepted by Schengen embassies and consulates throughout the world, our policies starting at 3 euros per day give you access to 24/7 emergency travel assistance and cover your medical expenses up to €60,000 in case of illness or accident, as well as additional coverage, available here. 
 
Tweet