Our Advice to Travelers for Exploring Europe Worry-Free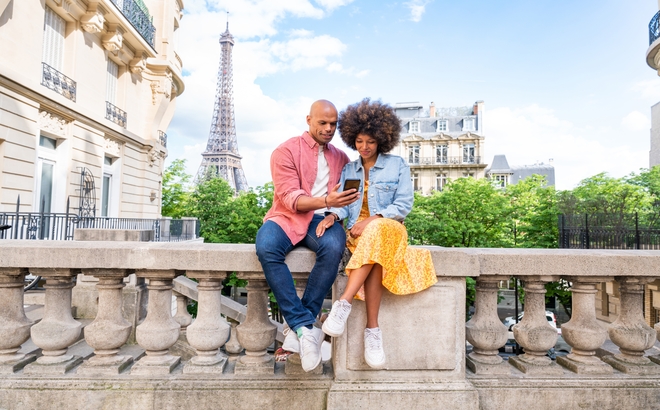 Currently*, the borders of the Schengen Area are open and travelers don't have to complete any formalities to enter Schengen Area Member Countries in Europe. In other words, it's a great time to explore the Old Continent!
 

Best Places to Travel in Europe
If you're looking for some ideas for your itinerary, here are our recommendations. These are our top 5 destinations in Europe right now, and the best places to travel alone in Europe:
- France in all seasons, but especially in October 2023 for the Rugby World Cup! An historic event that will hopefully see the French team victorious for the first time.
- Croatia in the summer, specifically from May to September, where you can enjoy the perfect climate and paradisiacal islands along the Croatian coast.
- The Netherlands, and not only Amsterdam! The Hague, Delft, Utrecht... The Dutch capital is surrounded by many exciting cities and lush countryside scattered with countless picturesque villages.
- Portugal in the winter for mild temperatures and a country with a rich culture and breathtaking natural landscapes.
Iceland for something totally different close to nature. Volcanoes, black sand beaches, the northern lights... Adventure between fire and ice to discover these grandiose landscapes.
 

3 Tips for an Affordable Trip to Europe
When in Europe, take the train. The train is an affordable, easy and eco-friendly option to get to your destination or travel from point A to point B during your stay.
Stay in youth hostels. Prices are low and you have excellent chances of meeting people during your stay. And if you don't want to sleep in a dormitory, many hostels offer private rooms. Just ask!
Take out travel insurance. It may just seem like an expense, but insurance is how you protect yourself from possible major expenses that could arise during your trip to Europe.
 

3 Tips for a Worry-Free Trip to Europe
Share your itinerary with loved ones. You should share your travel itinerary with your friends and family, even if you are traveling with others. If something happens or there's an emergency, this makes it easier to locate you.
Stay informed. Whatever the country you are visiting, keep up-to-date on what's happening on the ground using international information sites or platforms set up by your country of origin. Example: the French Ministry of Europe and Foreign Affairs website publishes specific travel advice and last-minute alerts for every country in the world.
Save the emergency numbers of the country you are visiting. If you witness or are the victim of an incident requiring emergency intervention in a country of the European Union, dial 112. Accessible free of charge from a landline, cell phone or payphone, this emergency number connects you to the local ambulance services (medical emergency), the police (crime) or the fire department (danger, accident) 24/7.
 

Documents for Travel to Europe
You should know that there is no common visa policy between the countries of the European Union. However, there is one for Schengen Area countries. This is an area of free movement (without border controls) made up of 26 countries, including 22 (of the 27) members of the European Union.
Countries in the Schengen Area:
Austria, Belgium, Czech Republic, Denmark, Estonia, Finland, France, Germany, Greece, Hungary, Iceland (non-EU), Italy, Latvia, Liechtenstein (non-EU), Lithuania, Luxembourg, Malta, Netherlands, Norway (non-EU), Poland, Portugal, Slovakia, Slovenia, Spain, Sweden, Switzerland (non-EU).
Do you want to go to one of the European Union countries that are not members of the Schengen Area, i.e. Bulgaria, Cyprus, Croatia, Ireland or Romania? Visit the embassy's website of the country you wish to visit to see what the travel requirements are.
 
Required Documents for Entering the Schengen Area
Are you a citizen of the European Union or Schengen Area (or Associated States)? You can come to the Schengen Area countries and the European Union with a national identity card or passport valid for the duration of your stay.
Are you a citizen of a country outside the EU and Schengen Area? You will need a valid passport and, depending on your destination in the Schengen Area, you may need a visa. See which countries need a Schengen visa for France here.
- Do you need a Schengen visa? Go to the consulate's website for the country in the Schengen Area where you wish to travel to obtain the necessary information and start your Schengen visa application. Please note: if you wish to visit several countries during your long Easter weekend in Europe, you must specify this in your Schengen visa application. Once you have obtained your visa, be sure to keep your supporting documents with you, including your proof of Schengen travel insurance covering medical and hospital expenses for a minimum of €30,000. You may be asked for them when you cross the border to arrive in the Schengen Area.
- You don't need a visa? You can travel within the Schengen area with a passport that was issued less than 10 years ago and is valid for at least 3 months after your planned exit date. The border police may also ask you for other documents, even if you don't need a visa. According to the conditions provided for by the European and French regulations in force, you may need: proof of accommodation and sufficient financial resources, a return ticket, or proof of travel insurance covering all medical, hospital and death expenses that may be incurred during your stay. Please note that as of November 2023, you will also need to apply for an ETIAS travel authorization to enter the Schengen Area.
 Required Documents for Travel within the Schengen Area
The Schengen Area is a free movement zone without border controls. Are you wondering if you need to show an ID (and if so which one) to fly between two European countries? Although you do not have to pass through border patrol to fly between two Schengen Area countries, the airline you are flying will ask for your national identity card (if you are a citizen of one of the Schengen Area countries or the European Union) or a passport (if you are from another country). During your stay, you must be able to present your identity document (national identity card or passport), as well as your visa, during routine checks. Are you afraid of losing them? Leave them in a safe place and take a photocopy with you.
Traveling in Europe without a passport is allowed for citizens of the European Union, the Schengen Area and Associated States. They can travel in the countries of the European Union and the Schengen Area with a valid national identity card. For other foreign travelers, a passport is required. 
Which Travel Insurance Do I Need to Travel in Europe
Choose peace of mind for your visa application or when crossing the border with Schengen travel insurance policies from Europ Assistance. Starting at 3 euros, you are covered for medical expenses of up to €60,000 in the event of illness or accident, as well as additional coverage in all Member States of the Schengen Area and European Union, as well as the United Kingdom. Apply online and get your proof of insurance immediately, recognized and accepted by Schengen embassies and consulates worldwide.
* Be vigilant, however, because the situation can change quickly. Keep checking this information until you leave.
 
Tweet