France's Largest Rugby Stadiums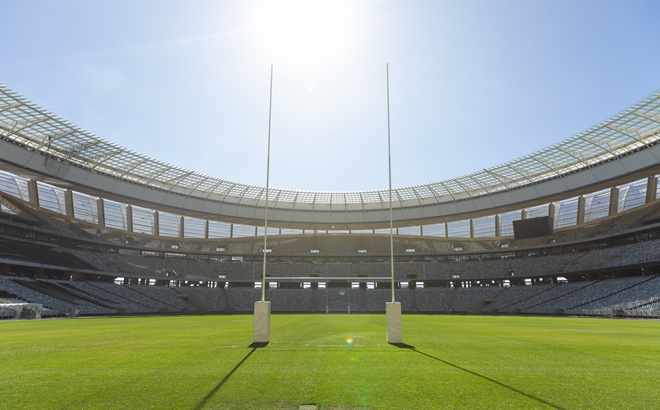 Rugby, an emblematic and exciting sport, has adoring fans around the world. In France, home of the oval ball, this passion reaches new heights during Top 14 matches. Bringing together the best French professional clubs, this rugby tournament embodies the excellence of the sport. Fans, the real protagonists of the sport's grand stage, gather in the stadiums to watch the matches in an electric atmosphere! Would you also like to experience the excitement of rugby? Discover the legendary Top 14 stadiums where you can enjoy this unique experience. And if you're arriving from abroad, you can also take advantage of our tips for planning a successful trip!
 The Largest Rugby Stadium in France
The largest stadium in France is the Stade de France (Plaine Saint Denis) with 80,698 seats, followed by the Vélodrome Stadium in Marseille with 67,394 seats. Both stadiums regularly host matches for the French rugby team. 
 France's Largest Rugby Stadiums for the Top 14
Lyon (LOU) - Matmut Stadium Gerland (35,029 seats). A historic sports venue, Gerland stadium is known for its electric atmosphere. Since 2017, it has been home to the LOU on turf.
Union Bordeaux-Bègles (UBB) - Chaban-Delmas Stadium (34,462 seats). Built in 1924 and listed as a historic monument since 2022, Chaban-Delmas Stadium saw some of the greatest successes of Bordeaux's Girondins soccer club before passing the residency to the UBB in 2015. 
Racing 92 - Paris La Défense Arena (30,000 seats). Specially designed for rugby, the Paris La Défense stadium is an impressive venue with modern facilities. What makes it special? The retractable roof can adapt to changing weather conditions while creating an intimate atmosphere. 
Stade Français - Jean-Bouin Stadium (20,000 seats). This is one of the finest rugby stadiums in France. A modern masterpiece, Jean-Bouin Stadium has recently been renovated to the delight of spectators. 
ASM Clermont - Marcel-Michelin Stadium (19,357 seats). Nicknamed the yellow and blue cauldron, Marcel-Michelin Stadium is one of the most modern stadiums in Europe. Over the years, this famous stadium has been transformed into a whole experience, and now boasts an interactive museum!
Stade Toulousain - Ernest-Wallon Stadium (19,000 seats). Boasting hybrid turf and a connected experience, the Ernest-Wallon stadium is a pioneer among stadiums 2.0. Fans at Toulousain Stadium can enjoy enriched content before, during and after matches on the app. 
RC Toulon - Mayol Stadium (17,300 seats). Located in the heart of Toulon, Mayol Stadium is named after Félix Mayol, the Toulon singer who financed its construction in 1919. Since then, the legendary stadium has been buzzing with the energy of fans of the red and black at matches that are often sold out.
Stade Rochelais - Marcel Deflandre Stadium (16,000 seats). A real stronghold for the yellow and black team, Marcel Deflandre stadium welcomes a loyal and passionate crowd, and is regularly sold out. There's no doubt about it, the atmosphere is great on match days.
MHR Montpellier - GGL Stadium (15,697 seats). GGL Stadium in the Yves du Manoir athletic complex is one of the most modern stadiums in the Top 14. Featuring clean lines and a soaring roof, the building also allows spectators to get up close and personal with the players. 
Section Paloise - Le Hameau Stadium (15,043 seats). The Honhada, the Section's anthem, and other songs of encouragement enliven the green meadow of Le Hameau, one of the largest modern stadiums in the Nouvelle-Aquitaine region. A real treat for players and fans alike. 
USA Perpignan - Aimé-Giral Stadium (14,577 seats). Named after the hero of the 1914 French Championship final, Aimé-Giral Stadium has been USA Perpignan's home stadium since 1940. Known for their loyalty and passion, fans are there for every match, home and away. 
Aviron Bayonnais - Jean-Dauger Stadium (13,507 seats). Fan demand is such that the city of Bayonne has had to renovate the legendary Jean-Dauger Stadium several times since 2006 to add extra boxes. A testament to the enthusiasm of the Aviron Bayonnais fans!
Castres Olympique - Pierre-Fabre Stadium (12,500 seats). Home to Castres Olympique rugby matches since 1907, Pierre-Fabre Stadium (formerly known as Pierre-Antoine) is a famous rugby venue. Equipped with hybrid turf since 2022, the stadium has seen its team win numerous matches. 
Oyonnax Rugby - Charles-Mathon Stadium (10,000 seats). Oyonnax Rugby's promotion to the Top 14 has ushered in a new era at Charles-Mathon Stadium. Following a series of renovations, the stadium's capacity has been increased from 8,670 to 11,400, including 10,000 seats.
Across the Channel, other famous stadiums await the world's top rugby fans. These include:
- Twickenham in London (England) with 82,000 seats
- The 74,500-seat Millennium Stadium in Cardiff, Wales
- Murrayfield in Edinburgh (Scotland) with 67,144 seats
- The 51,700-seat Aviva Stadium in Dublin, Ireland.
 

Which Documents do I need to Attend a Top 14 Rugby Match?
Are you a citizen of the European Union or Schengen Area (or Associated States)? You can travel in the Schengen Area countries and the European Union with a national identity card or passport valid for the duration of your stay. 
Are you a citizen of a country outside the EU and Schengen Area? To enter the Schengen Area and France, you must have a valid passport and, depending on your country of origin, a Schengen visa. See which countries need a Schengen visa here.
- Do you need a Schengen visa? Go to the official France-visas website for the information you will need and to start your Schengen visa application. Once you have obtained your visa, be sure to keep your supporting documents with you, including your proof of insurance that covers medical and hospital expenses for a minimum of €30,000 (French border control may ask for them). 
- You don't need a Schengen visa? You can travel within the Schengen Area with a passport issued less than 10 years ago and valid for at least 90 days from your expected return date. The border police may also ask you for other documents. Please check with the French Embassy in your country for further information. Finally, as of November 2024, citizens of visa-exempt countries will need to apply for an ETIAS travel authorization to enter the Schengen Area. 
 

Which Travel Insurance Do I Need for a Rugby-Themed Trip to Europe?
Choose peace of mind for your Schengen visa application or when crossing the border with Schengen travel insurance policies from Europ Assistance. Apply online and get your proof of insurance immediately, recognized and accepted by Schengen embassies and consulates worldwide.
Starting at 3 euros, Europ Assistance's Schengen visa travel insurance covers you for medical expenses of up to €60,000 in the event of illness or accident, as well as additional coverage in all Member States of the Schengen Area and European Union (as well as the United Kingdom).
Tweet