The Most Beautiful Lakes in Europe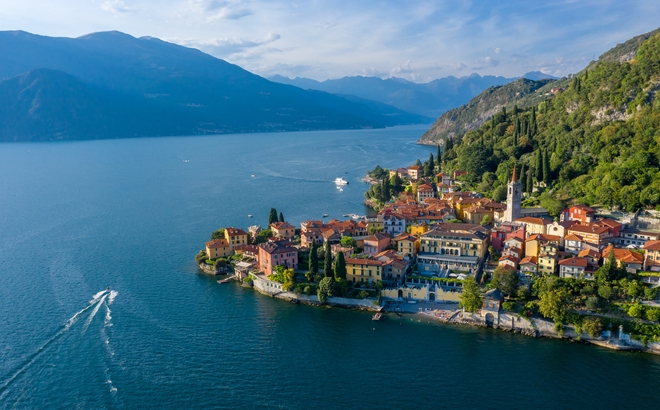 Europe abounds in gorgeous natural landscapes, including countless lakes that are often overlooked. Yet, they are just as beautiful as the white sand beaches at the edge of the world. Europe's most beautiful lakes are now popular destinations for your next summer holiday. Here, we reveal our selection of Europe's most beautiful lakes and some tips for planning your trip.
 Lake Balaton (Hungary)
Located 100 kilometres west of Budapest, the popular Lake Balaton is so large that it's nicknamed the Hungarian Sea. Bordered by vineyards to the north and heavenly seaside resort towns to the south (including the adorable village of Siofok), this idyllic setting is perfect for both swimming and hiking.
 Lake Geneva (France/Switzerland)
Between France and Switzerland, bordering the Jura Mountains and the Alps, Lake Geneva is a vast, glittering body of water (581 km²) with much to offer. Shaped like a crescent, it laps at the foot of major towns including Thonon-les-Bains and Évian-les-Bains on the French side, and Lausanne, Montreux and, of course, Geneva on the Swiss side. 
 Lake Como (Italy)
Lake Como dazzles as Italy's most beautiful lake. Shaped like a "Y", this natural wonder stretches over 146 km² through green hills and picturesque villages. Varenna, Santa Maria Rezzonico, Bellagio, Cernobbio... They are all part of the incomparable beauty of Lake Como.
Northern Italy's treasures also include Lake Maggiore, a little slice of paradise between Ticino (Switzerland) and Lombardy (Italy). 
 Lake Annecy (France)
Known as the blue lake for its irresistible color, this 27 km² expanse of freshwater makes Annecy a must-see in the Alps. In a dream-like setting, Lake Annecy is surrounded by a 40-km bike path. It is known for its clean, warm water, which can reach 28 degrees in summer. Unsurprisingly, this is one of France's most beautiful lakes for swimming, and is even one of the cleanest lakes in Europe.
Lake Salagou and Lake Bourget are also counted among the most beautiful lakes in France. Consider them for your next holiday in the country! 
 Lake Bled (Slovenia)
Just 55 km from the capital Ljubljana, Lake Bled is a picture-perfect landscape in Slovenia's Upper Carniola region. Surrounded by the Julian Alps, its transparent waters delight visitors, whether they prefer to hike or swim, with their breathtaking beauty. And not to forget the village of Bled with a medieval castle on a cliff and a small island that houses a neo-Gothic church.
Documents for Travel to Europe
Note that the member countries of the Schengen area have a common visa policy. The Schengen Area is a free movement zone without border controls comprising 26 countries, including 22 of the 27 members of the European Union: Austria, Belgium, Denmark, Estonia, Finland, France, Germany, Greece, Hungary, Iceland (non-EU), Italy, Latvia, Liechtenstein (non-EU), Spain, Hungary, Iceland (non-EU), Italy, Latvia, Liechtenstein (non-EU), Lithuania, Luxembourg, Malta, Norway (non-EU), the Netherlands, Poland, Portugal, Czech Republic, Slovakia, Slovenia, Spain, Sweden and Switzerland (non-EU).
- Are you a citizen of the European Union or Schengen Area (or Associated States)? You can come to the Schengen Area with a national identity card or passport valid for the duration of your stay. Examples: you can travel to Spain, Switzerland or Iceland with a national identity card. 
- Are you a citizen of a country outside the EU and Schengen Area? You can enter the Schengen Area with a valid passport and, depending on your country of origin, a Schengen visa. See which countries need a Schengen visa here.
 Do You Need a Schengen Visa?
Go to the consulate's website for the country in the Schengen Area where you wish to travel for the information you need to start your Schengen visa application. Please note: if you wish to visit several countries in the Schengen Area, you must specify this in your Schengen visa application. Once you have obtained your visa, be sure to keep your supporting documents with you, including your proof of insurance covering medical and hospital expenses for a minimum of €30,000. The border police may request them when you enter the Schengen Area. 
 You don't need a visa?
You can travel within the Schengen Area with a passport issued less than 10 years ago and valid for at least 90 days from your expected return date. 
Please note: depending on the national regulations in the Schengen country you are visiting, you may also be asked for supporting documents when you pass through border patrol on arrival, even if you do not need a visa. For example:  
- accommodation for the duration of your stay
- sufficient financial resources
- return ticket (or proof of financial means to purchase one)
- documents providing details of your profession
- Proof of insurance covering repatriation as well as all medical, hospital and death-related expenses that may be incurred during your stay.
As of November 2023, nationals of visa-exempt countries will need to apply for an ETIAS travel authorization to enter the Schengen Area, including France.
Which Travel Insurance Do I Need to Travel in Europe
Choose peace of mind for your Schengen visa application or when crossing the border with Schengen travel insurance policies from Europ Assistance. Apply online and get your proof of insurance immediately, recognized and accepted by Schengen embassies and consulates worldwide.
Starting at 3 euros, Europ Assistance's Schengen visa travel insurance, starting at 3 euros, covers you for medical expenses of up to €60,000 in the event of illness or accident, as well as additional coverage in all Member States of the Schengen Area and European Union (as well as the United Kingdom).
FAQ
 What is the biggest lake in France?
Lake Geneva is located between France and Switzerland. With a surface area of 580 km², it is considered the largest lake in France. 
What is the most beautiful lake in Italy?
Popular with tourists from all over the world, Lake Como is Italy's most beautiful lake, and perhaps even the most beautiful lake in Europe. Surrounded by beautiful hillside villages and luxurious villas, it is also a destination for hikers in search of breathtaking scenery. 
What is the biggest lake in Europe?
With a surface area of almost 600 km², Lake Balaton (Hungary) is the largest lake in Europe. 
What is the biggest man-made lake in Europe?
Created by an earthen dam, Europe's largest man-made lake (28 km²) is located in France's Hautes-Alpes region:  Lake Serre-Ponçon.
Which lake is the warmest in Europe?
Known for temperatures of up to 28 degrees in summer, Lake Aiguebelette, just a few minutes from Chambéry, is said to be the warmest lake in Europe. It is also the third-largest lake in France. 
These exceptional temperatures are due to the lake's geographical location. It is protected from the wind and surrounded by reliefs that are constantly heated by the sun's rays. 
Tweet