St. Patrick's Day in Dublin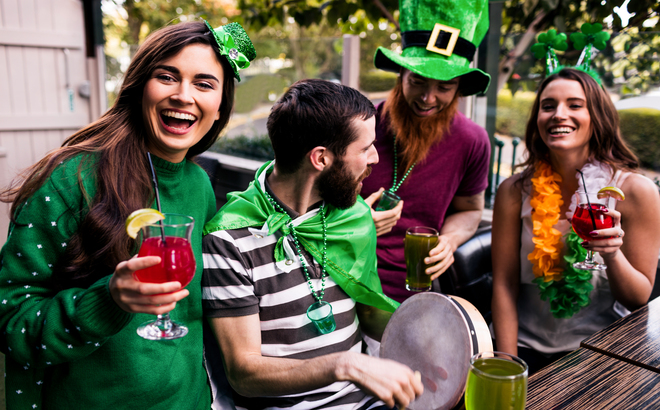 Every year around March 17, Ireland is abuzz with excitement for St. Patrick's Day! For a few days, Irish culture is honored in all its forms, especially in Dublin!
This year, the famous St. Patrick's Day Festival in Dublin will be held Thursday, March 16 to Sunday, March 19, 2023. The perfect time to visit Ireland and discover its history, culture and breathtaking landscapes.
 

Everything You Need to Know About St. Patrick's Day
 What is Saint Patrick's Day?
St. Patrick's Day is a Christian holiday. As its name suggests, it celebrates St. Patrick, patron saint and evangelist of Ireland, who died on March 17, 461. According to legend, St. Patrick converted Ireland to Christianity. 
Today, although it is still celebrated by the Catholic, Anglican, Orthodox and Lutheran churches in Ireland, the holiday is secular for the general public. It has become a celebration of Ireland and the Irish culture and folklore, both in Ireland and around the world. 
 How is St. Patrick's Day Celebrated in Ireland?
March 17, St. Patrick's Day, is a public holiday in Ireland, but celebrations are not limited to one day! They often begin before and always end at the end of the weekend following March 17. The whole country comes out to celebrate! The locals dress in green and gather in pubs to listen to Irish music, eat local food, and enjoy festivities and community events.
If you want to celebrate St. Patrick's Day the right way, go to Dublin! As every year, the capital city hosts the St. Patrick's Festival for 4 days around March 17.  Artists of all kinds invade the streets of the city to showcase Irish culture and entertain the public. When is the St.Patrick's Day Festival in Dublin this year? March 16-19! On the schedule: the immense St. Patrick's Day parade through the streets of Dublin and a wide range of family entertainment (music, art, conversations, workshops, plays, exhibitions, concerts, street shows, and more). Not to mention the best of Irish food and crafts!
 3 St. Patrick's Day Traditions
Wear green, the color of the shamrock, the emblem of Ireland. And watch out; if you're not wearing green, someone will pinch you! Legend has it that only those dressed in green are invisible to the leprechaun and protected from his pranks. 
Wear a shamrock on your chest. Legend has it that St. Patrick explained the concept of the Holy Trinity (Father, Son and Holy Spirit) with a three-leaf clover, making it the symbol of Ireland.
Dress up as a leprechaun, a small and mischievous creature from medieval Irish literature that is now one of the icons of Irish folklore. Some just wear the big green hat, while others go all out with a red beard and green suit. 
 

How Can I Attend St. Patrick's Day in Ireland?
St. Patrick's Day is the perfect time to visit the Emerald Isle and discover its history, culture and breathtaking landscapes. Here, we tell you what the requirements are to travel to Ireland and celebrate St. Patrick's Day 2023, because depending on your nationality, you may need a visa or travel insurance. 
 What are the Requirements for Travel to Ireland?  
Are you a citizen of the European Union? You can celebrate St. Patrick's Day in Ireland with a national identity card or passport valid for the duration of your stay.
Are you a citizen of a country outside the EU? Depending on your country of origin, you may need a visa to travel to Ireland. 
You will need to apply for a visa at the Irish Embassy in your country if you are a citizen of one of the following countries: Afghanistan, Albania, Algeria, Angola, Armenia, Azerbaijan, Bahrain, Bangladesh, Belarus, Benin, Bhutan, Bosnia and Herzegovina, Burkina Faso, Burundi, Cambodia, Cameroon, Cape Verde, Central African Republic, Chad, China, Colombia, Comoros, Republic of Congo, Saudi Arabia, Democratic Republic of Congo, Côte d'Ivoire, Cuba, Djibouti, Dominican Republic, Ecuador, Egypt, Eritrea, Ethiopia, Faroe Islands, Gabon, Gambia, Georgia, Ghana, Guinea, Guinea-Bissau, Haiti, India, Indonesia, Iran, Iraq, Jamaica, Jordan, Kazakhstan, Kenya, Kosovo, North Korea, Kuwait, Kyrgyzstan, Laos, Lebanon, Liberia, Libya, Northern Macedonia, Madagascar, Malawi, Mali, Marshall Islands, Mauritania, Mauritius, Micronesia, Moldova, Mongolia, Montenegro, Morocco, Mozambique, Myanmar, Namibia, Nepal, Niger, Nigeria, Oman, Pakistan, Palau, Palestine, Uganda, Uzbekistan, Papua New Guinea, Peru, Philippines, Qatar, Russia, Rwanda, Sao Tome and Principe, Senegal, Serbia, Sierra Leone, Somalia, South Sudan, Sri Lanka, Sudan, Suriname, Syria, Tajikistan, Thailand, Timor-Leste, Tunisia, Turkey, Turkmenistan, Uganda, Tanzania, Uzbekistan, Venezuela, Vietnam, Yemen, Zambia, Zimbabwe. 
You don't need a visa? You can travel to Ireland with a valid passport valid for 6 months after your return date. You may be asked for additional documents by border patrol, such as a return ticket, proof of accommodation and financial means or travel insurance. Please check with the Irish Embassy in your country for further information. 
For more information, please visit the Irish Ministry of Foreign Affairs website. 
 Which Travel Insurancedo I need to celebrate St. Patrick's Day in Ireland?
Choose peace of mind for your visa application and when crossing the Italian border with Schengen travel insurance policies from Europ Assistance. Apply online and get your proof of insurance immediately. Recognised and accepted by Schengen embassies and consulates throughout the world, our policies starting at 5 euros per day cover your medical expenses up to €60,000 in case of illness or accident in one of the Member States of the Schengen Area, as well as Bulgaria, Cyprus, Croatia, Ireland, Romania and the United Kingdom. See all coverage options here. 
 
Tweet