What is the Schengen Area?
Everything you need to know about the Schengen Area is in this article.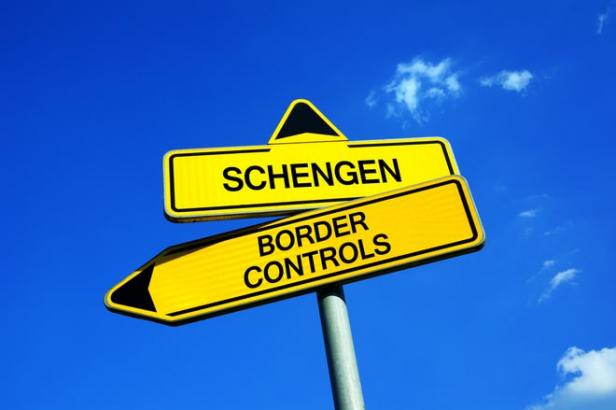 What is the Schengen Area?
Schengen Area, European Union, Eurozone, Europe… All of these institutions and geographic areas can be confusing. Here, we help you better understand them so that you can finally visualise the map of the Schengen Area.

Schengen Area: Definition
The Schengen Area is a free movement area without border controls that includes 26 countries. So, what does that mean? This means that whether you travel on foot or by car, train, boat or plane, there is no border control for individuals (whether they are citizens of the Schengen Area or not) travelling between two member countries of the Schengen Area. What is the advantage of the Schengen Area? The advantage? No, there are many! Both people and goods can move freely, stimulating tourism and trade! Not to mention travellers who would have had to wait at border control, and can now travel worry-free.
The Schengen Area in 3 Date
- 14 juin 1985 : signature de l'accord dit « Schengen » d'après le nom du petit village du Luxembourg où a eu lieu l'événement. Signé entre 5 pays de l'Union économique — la France, l'Allemagne, la Belgique, le Luxembourg, les Pays-Bas — cet accord politique prévoit la suppression graduelle des contrôles aux frontières communes.  
- 1995 : Schengen Agreements enter into force.
- 1997 : signature of the Treaty of Amsterdam, which integrated the Schengen Agreements, the application convention and resulting regulations into European law. It entered into force two years later, in 1999.
The Schengen Area Borders
Since their entry into force in 1995, the Schengen Agreements have attracted new states from the European continent. The Schengen Area borders have drastically widened, with 26 members as of December 19, 2011 with the addition of Liechtenstein.
These 26 member states of the Schengen Area have removed their internal borders to facilitate the circulation of goods and people, but they share a robust external border. This external border has a standardised, strict control process for international travel.
The Schengen Visa
The member states of the Schengen Area share an external border, as well as a short stay visa policy (less than 90 days in a period of 180 days). There is a distinction between countries that are exempt from the Schengen visa—their citizens can come to the border of a Schengen Area country with their passport and receive an automatic short stay Schengen visa—and the countries whose citizens are required to apply for a Schengen visa.
The citizens of certain countries must apply for a Schengen visa with the competent authorities in their country of origin and provide a list of required documents. These documents include the travel itinerary, an insurance policy that covers medical and hospital expenses for a minimum of €30,000 valid in all Schengen Area countries and proof of lodging. To learn more about the different types of visas, which countries require a visa for a short stay in the Schengen Area and much more, visit our Travel Advice page.Important: the ETIAS system, which is in the process of being adopted by the European Union, will soon allow passengers exempt from the Schengen visa to sign up and receive a travel authorisation for the Schengen Area.

Schengen Area Countries
In 2021, there are 26 countries in the Schengen Area. These include 22 (of 27) member states of the European Union : Austria; Belgium; Czech Republic; Denmark; Estonia; Finland: France: Germany: Greece: Hungary: Italy: Latvia; Lithuania; Luxembourg; Malta; the Netherlands; Poland; Portugal; Slovakia; Slovenia; Spain; Sweden.
Please note that this list does not include the overseas territories of member states. Metropolitan France and Corsica are part of the Schengen Area, for example, but the French territories French Guyana, Guadeloupe, Martinique, Réunion, Mayotte, Saint Barthélemy and Saint Martin are not. The same is true with Aruba for the Netherlands and Greenland for Denmark.
The list of Schengen Area countries also includes 4 member states of the European Free Trade Association (EFTA): Iceland; Liechtenstein; Norway; Switzerland.
The Schengen Area also de facto includes four European microstates: Gibraltar; Monaco; San Marino; The Vatican.
Be careful not to confuse European Union, Europe and Schengen Area. Europe is a continent with 50 countries and the European Union is a political-economic union of 27 countries, whereas the Schengen Area is a free movement area of 26 countries. The Schengen Area includes 22 member states of the European Union and 4 non-members. This means that there are 5 member states of the European Union that are not part of the Schengen Area: Bulgaria, Cyprus, Croatia, Ireland and Romania. Finally, Schengen Area does not necessarily mean Eurozone. When you travel within the Schengen Area, make sure to confirm the country's local currency to avoid any issues..

Reopening of the Schengen Area
In March 2020, the Schengen Area closed its borders due to the global Covid-19 pandemic. The internal borders of the Schengen Area, which had been removed for many years, were temporarily recreated to fight the pandemic. Today, the founding principle of the Schengen Area, free movement, has been re-established, but there is one condition: the health pass. Granted after full vaccination, a negative RT-PCR or antigen test or proof of immunity, the health pass is currently required for travelling between two Schengen Area countries.
The external borders remained closed until June 9, 2021, when a list based on precise epidemiological criteria was created to divide countries into three categories: green, orange and red. This list is regularly revised and allows requirements to be adapted for citizens of each country that would like to travel to the Schengen Area.
Tweet